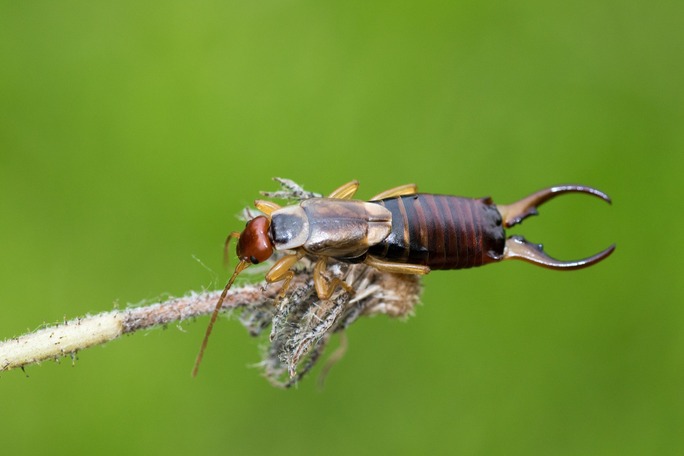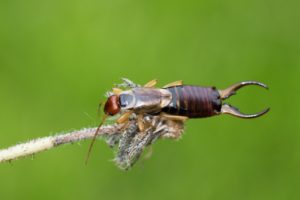 The summer brings everyone out to play – bugs included. One of these bugs is none other than the infamous earwig. The famous tall tale warns us that earwigs will crawl into your ear and lay eggs in your brain, but this is entirely fictitious. However, there are other reasons why you should be concerned if you see earwigs in your house or your yard. As pest control professionals, Twin Forks Pest Control® team members have in-depth knowledge about various indoor pests, and we are here to explain everything you need to know about earwigs.
What Are Earwigs?
Earwigs are outdoor insects with a dark brown body, a reddish-brown head, and yellowish-brown legs. They measure around 5/8 of an inch long. HortNews.Extension.IaState.edu notes that their most identifiable physical characteristics are the large pincers that protrude from the end of their body. Male earwigs have curved pincers, while females have straight pincers.
What Attracts Earwigs to My Home?
Earwigs typically emerge after long periods of wet and rainy weather due to their attraction to moisture and ability to thrive in dark and moist areas, according to LandmarkHW.com. Having areas of high humidity around or in your home may entice earwigs to visit you. Attractive areas for earwigs include rotting and decaying trees, overwatered potted plants, and even wet cardboard. In addition to eating decaying plants, earwigs also eat garden pests, so having a garden could attract and keep earwigs on your property.
Are Earwigs Dangerous to Humans?
Earwigs have pincers at the end of their body to capture prey and defend themselves. If earwigs feel threatened, they will bite the perceived threat with their pincers. Usually, they pinch and hold on to the skin, but Healthline.com states that sometimes their bite can break the skin and cause bleeding. More often, an earwig bite leaves behind a swollen red mark. Earwigs are not venomous, so the red spots will heal on their own and should not require medical attention.
Twin Forks Will Remove Earwigs from Your Property For Good
Twin Forks Pest Control® specializes in pest extermination, including earwig control. Do not let earwigs ruin your family's summer. You can trust us to rid your property of earwigs with organic or traditional sprays. We have assisted homeowners with pest problems in communities across Long Island's East End, including Amagansett, Calverton, and East Marion. Get started today by either filling out our free estimate form or calling (631) 201-5646 if you're in the Southampton area, (631) 324-9020 if you're in the East Hampton area, or (631) 298-0500 if you're in the Southold area.