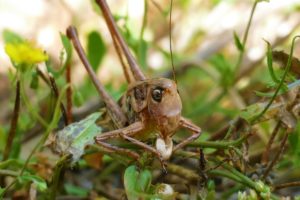 Traditionally, crickets were an omen of good luck and prosperity in multiple countries and cultures, including China, Japan, Ireland, and North American Native Americans. They were kept in cages by the Chinese and Japanese who revered their songs. English authors Shakespeare and Dickens spoke of crickets as harbingers of good fortune. Modern homeowners don't give crickets the same warm welcome, though, and with good reason.
In modern times, most people view crickets as merely annoying and harmless. In truth, crickets rapidly destroy fields of cash crops such as barley, wheat, and corn, and they will quickly wreck an average home garden or lawn. House crickets will eat fabrics including wool, cotton, silk, fur, and linen, with a particular taste for food or sweat-soiled clothes and home furnishings such as curtains, carpeting, and even wallpaper. To prevent damage to your belongings if you have crickets living in your home, call Twin Forks Pest Control® to get rid of them.
The Dangers of Crickets
Aside from the potential damage to your carefully cultivated backyard garden and lawn, your clothes, and your home's carpeting, crickets can infect humans with potentially deadly diseases such as e. Coli and salmonella. These diseases are transmitted via direct contact with a cricket or its feces, or when bitten, even though most ordinary house cricket bites can't break human skin. Cricket feces can carry worms, representing another health risk.
Even though crickets don't have a poisonous bite or sting, they cannot be allowed to remain in your home. The risk of damage to your personal belongings and home furnishings is too high. As crickets tend to move into homes during the fall, seeking out warm, damp spaces such as basements via cracks and crevices, it's critical to seal any openings to prevent their entry. Our pest control experts can help identify and address these vulnerabilities and get rid of the cricket population that might be currently residing in your home.
Let Twin Forks Pest Control® Get Your Cricket Problem Under Control
If you have a cricket infestation, don't wait. Early intervention is the best way to overcome these problems before they become a much bigger issue. Please call the applicable regional phone number – Southampton area residents can call (631) 201-5646, Easthampton area residents can call (631) 324-9020, and Southold area residents can call (631) 298-0500.
Fill out our contact form to get a free inspection and job estimate. We will work with you to pick a time for our professionals to come to your home and help rid you of your cricket issue to protect your clothing, carpeting, and your garden. From Calverton to Cutchogue, Twin Forks Pest Control® has you covered.