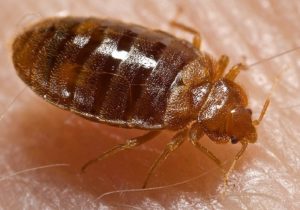 Eastern Long Island Bed Bug Removal
Bed bugs are a pest unlike most others that plague homeowners. When homeowners notice signs of mice, squirrels, or ants, there are any number of methods to get rid of them. A professional extermination team can help rid a home of these pests quickly and make repairs that will prevent further infestations. But bed bugs present a different kind of menace. In addition to the fact that their bites can cause rashes, allergic reactions, asthma attacks, and blistering, getting rid of them isn't so easy.
What are Bed Bugs?
Bed bugs are tiny parasites that feed off of human and animal blood. They infest dark areas, such as mattresses, box springs, underneath carpeting, furniture, etc. While some people erroneously think that bed bugs are a sign of an unsanitary facility, in actuality, it is not the cleanliness of the area, but rather human density that helps expedite outbreaks. Since close quarters help bed bugs to spread and facilities like hospitals, hotels, and cruise ships have tight spaces and frequent guest changeovers, they become ideal locations for bed bugs to thrive.
For the average homeowner, bed bugs can be introduced by any number of means. Children will pass bed bugs to each other in school, a person can unknowingly transport bed bugs on their clothing, bed bugs can hide in luggage or furniture that's being moved from a college dorm. Once you see signs of bed bugs, whether the signs are rashes and marks from their bites or you see their droppings, it's past time to call an exterminator. In many cases of infestation, it can be costly to get rid of bed bugs since they tend to be resistant to some pesticides. In these cases, mattresses, furniture, and clothing often have to be discarded.
How Can I Avoid Getting Bed Bugs?
Preventing bed bugs completely might well be impossible, due to the myriad of ways that they can be transmitted. As we stated earlier, it has nothing to do with how clean or not your home happens to be. There are some ways to reduce your chances of finding these highly unwanted visitors in your home –
When traveling, don't put your luggage on the floor. Instead, put suitcases on a desk or sofa.
Declutter the area around your bed and living areas. Don't give bed bugs a place to nest and breed.
Check and recheck secondhand purchases such as clothing and furniture. Wash clothes in hot water and check the seams of any furniture for signs of bed bug fecal matter.
How Can I Get Rid of Bed Bugs? Contact Twin Forks Pest Control® Today
If you have spotted bed bugs in your home, don't wait! Early intervention is the best way to overcome these problems before they become a much bigger issue. There are extermination methods that only a professional can carry out and we have plenty of experience dealing with these and many other kinds of pests. Please call us or fill out our contact form to explain your specific situation. We will work with you to pick a time for our professionals to come to your home and get rid of the threat to your home and family. From Quogue to Southold, Twin Forks Pest Control® has you covered.