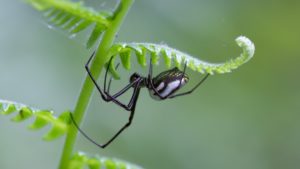 Perhaps one of the most reaction-inducing pests that we encounter is the spider. There are more than 48,200 separate species of spiders, and 120 different families. Spiders are found on every continent except Antarctica. The majority of spiders are predators, trapping prey in their webs for consumption. Spiders are known for spinning silk and also for their poisonous bites, some of which can potentially be fatal to humans.
Spiders are easily recognized and characterized by their eight legs, body region divided into two parts, and lack of wings or antennae. They have three or four pairs of eyes, depending on the species.
Spiders can enter the home through small openings, such as windows, cracks under doors, and exterior openings. In general, spiders are brought into the home as unexpected passengers when transferring plants, boxes, firewood, or other basement and attic items. Other insects or prey in the home can be another likely cause for their appearance. Leaving a smaller insect problem unattended can actually draw in more spiders as a consequence.
The Dangers of Spiders
Most spiders are not poisonous to humans, although many people have a phobia of spiders and would rather not interact with them. Two spiders that can poison humans with venom are the brown recluse and the black widow. Black widows are easily recognizable from the signature red "hourglass" shape on the underside of its abdomen. Brown recluse spiders, which can be found hiding in Long Island basements, have a large, "bulb" section of their body separate from their head, which features a notable line or etching through the center. They are shy and will usually run when exposed but their bites have been known to be fatal.
Spider bites can cause significant issues and even death. In general, spider bites can be very uncomfortable at the least, but they can cause serious neurological issues, especially in younger children, the elderly, or others with pre-existing medical conditions. Spider bites can cause infections, allergic reactions, and even death from unchecked infections. It's better not to risk these health issues and remove spiders at the first sign of infestation.
Twin Forks Pest Control® is Suffolk's Spider Control Expert
The licensed and insured experts from Twin Forks will make sure that your home is free from spiders. Our full range of services include –
Free building inspections.
Minor repairs for entry holes.
Attic inspections.
Attic cleanups.


Protect your family and your home or business by getting rid of pests. Our spider control specialists guarantee their work so you don't have to worry about a recurring infestation. We only operate east of Riverhead, so we know the pests specific to your home. Whether your home is in Bridgehampton or Greenport, we are available to get rid of your pests. Give the experts at Twin Forks Pest Control®® a call today at (631) 287-9020 to schedule your free estimate.