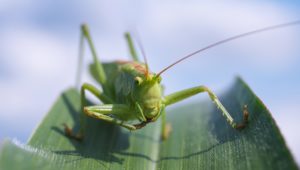 Grasshoppers are peculiar insects, capable of jumping using their muscular legs. A grasshopper's hind legs function similarly to a catapult – a special segment within their knees acts as a spring, launching them into the air. Because of this trademark movement, many do not realize grasshoppers are capable of flight.
They have hearing organs not on their head, but on their abdomen. Tucked under their wings are membranes that vibrate in response to sound, which is how they hear.
The first grasshoppers pre-date the dinosaurs, with fossils dating them during the Carboniferous period, over 300 million years ago. This likely makes them the oldest group of continuously living herbivorous insects.
The Dangers of Grasshoppers
While they don't often bite people, they are capable of doing so. The greatest danger grasshoppers pose is to your lawn, garden, or crops as they can eat half their body weight in plants per day. This may not seem like a lot by an individual grasshopper but swarms of grasshoppers can cause serious defoliation. Grasshopper swarms have been known to cause billions of dollars in crop damage each year.
Grasshoppers are not poisonous. They do have a trick that might trick you into momentarily believing they are! As a defense mechanism, grasshoppers can regurgitate parts of their stomach to discourage intruders.
Twin Forks Pest Control®® is Suffolk's Grasshopper Control Expert
The licensed and insured experts from Twin Forks Pest Control®® will make sure that your home is free from grasshoppers. Additional preventive services include –
Free building inspections.
Minor repairs for entry holes.
Attic inspections.
Attic cleanups.


Protect your family and your home or business by getting rid of these pests. Our grasshopper control specialists guarantee their work so you don't have to worry about a recurring infestation. We only operate east of Riverhead, so we know the pests specific to your home. Whether your home is in Easthampton or Southold, we are available to get rid of your pests. Give the experts at Twin Forks Pest Control®® a call today at (631) 287-9020 to schedule your free estimate.