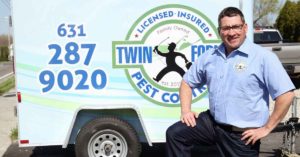 As a homeowner living on the East End of Long Island, there are many options to evaluate when you need to rid your home of indoor or outdoor pests. Twin Forks Pest Control® is one of the foremost pest control companies in Suffolk County and has established a solid reputation among Eastern Suffolk residents as one of the most reliable and trustworthy. 
Who We Are
Twin Forks Pest Control® was founded in 1997 and has been serving Long Island families for more than two decades. Our company is family-owned and operated, employing professionally licensed pest control experts. To us, our customers aren't just faceless names or account numbers. Many other pest control companies on the East End are owned and operated by large or out-of-state corporations who don't know the residents and aren't invested in the area.
What We Do
We realize that having a pest problem can be a very stressful situation for a homeowner. We do our best to take care of the situation as quickly and thoroughly as possible with minimal disruption to your daily life. 
We provide free home and attic inspections so that our licensed, insured pest extermination team can assess your issue and create a plan for your particular situation. Our no-obligation service quotes ensure that no unpleasant surprises or costs wait for you or us when we return to treat your home. 
Depending on your particular pest issue, we may need to provide additional services, including making minor repairs to close up entry holes and clean up some of the damage left behind. We provide also provide a guarantee that your pests won't return. 
You'll never have to worry about finding unwanted pests in your home again. We utilize high effective Integrated Pest Management control methods, a multi-pronged approach developed by the EPA that "is used to manage pest damage by the most economical means, and with the least possible hazard to people, property, and the environment." We provide pest control services on an as-needed basis, and we also offer comprehensive protection plans so that you can be covered year-round.         
Trust Twin Forks Pest Control® with Your Home
Our pest control technicians have the experience and training to handle any animal that has invaded your home or property. If you see signs of pests and require an inspection first or need to schedule a service appointment, contact Twin Forks Pest Control® today. Southampton residents, please call (631) 287-9020, Easthampton residents, please call (631) 324-9020, and Southold residents, please call  (631) 298-0500.