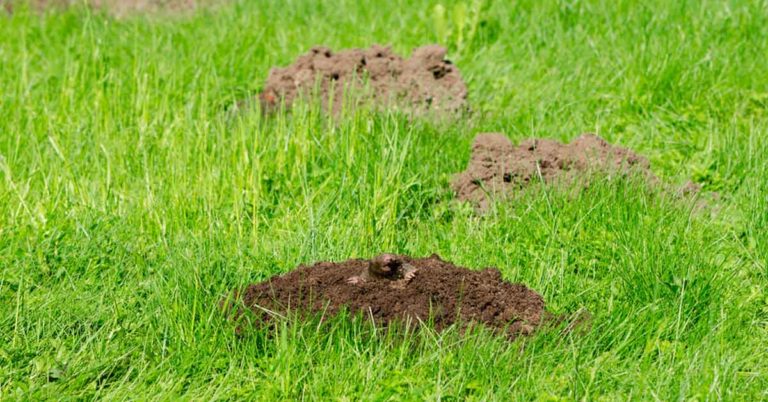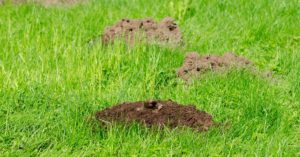 Moles are one of the many creatures which, in small numbers, can be helpful to a property but, in large numbers, are pests to be eradicated. A small mammal that lives underground, moles are exceptionally efficient diggers who can help aerate your soil or quickly destroy your lawn. These furry insectivores burrow 15 to 18 feet an hour, a noteworthy feat for a creature that measures about 10 inches when fully grown. While they can be helpful, it is better to get rid of moles than let them take over and destroy your lawn.
How to Tell if Your Long Island Property has Moles
Dead Grass

Moles burrow in search of food. They are efficient excavators but destroy the root systems of grass as they dig. They typically dig close to the surface, less than a foot down, and after it rains, when their choicest bugs are most accessible. This serves to wreck the roots of grass. If you notice dead patches of grass with no other visible causes, moles could be the reason.

Molehills


Molehills are the most prevalent and recognizable signs of mole invasions. This is one primary means of determining whether you have gophers or moles on your property. Gophers don't make piles of dirt; they destroy the soil as they dig their tunnels. Moles displace the dirt. The displaced dirt ends up on the lawn surface in random piles.

Visible Tunnels


Although moles generally burrow about a foot down from the surface, another common sign is their tell-tale tunnels that show up on lawn surfaces as raised soil ridges. The ground under these ridges can collapse when walked on, presenting a hazard to homeowners. The tunnels can destroy the root systems of not only grass but bushes and flowers as well.
Trust Twin Forks Pest Control® for Mole Control
Twin Forks Pest Control® has over 20 years of experience eliminating pests, including moles. Our trained experts will rid your property of unwanted pests. We offer year-round protection plans so that your home stays pest-free. At the first sign of pests, contact the local professionals near you. Get a free estimate by calling (631) 287-9020 if you're in Southampton, (631) 324-9020 if you're in Easthampton, or (631) 298-0500 if you're in Southold. We look forward to hearing from you.