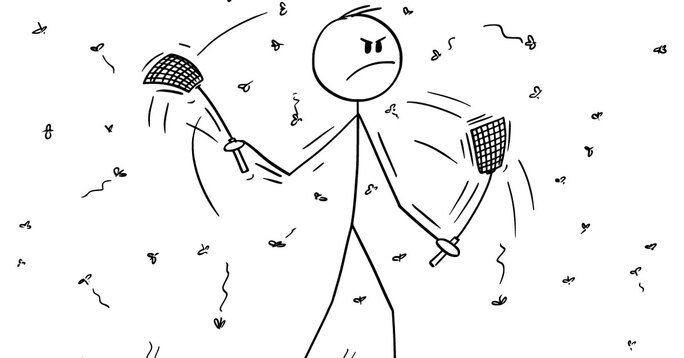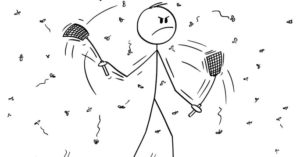 Pest infestations of any kind are bothersome, but a flying pest infestation can be especially concerning. Flying pests are usually much faster and can cover more ground in a shorter amount of time than pests that can only walk. Their speed not only increases the potential for the damage that they can cause to your house, but it can also pose a much higher threat to your health if you try to remove them yourself. The experts at Twin Forks Pest Control® have years of experience eliminating various flying pests to pass along our knowledge of when and why to contact professional exterminators.
If The Pest Is AggressiveIn general, we strongly urge homeowners not to try to remove any flying pests yourself that can become aggressive, including bees, wasps, and hornets. These flying insects are all capable of stinging you if they feel threatened. A sting would be especially fatal for those allergic to bee, wasp, or hornet stings.

The same rule applies even more for nests and hives, which house large numbers of these pests. The rule of thumb is that if the nest is "bigger than the size of your fist", do not knock it down or try to remove it yourself.

These flying pests are very unpredictable, and if you are not prepared with the right equipment or methods, you may get seriously hurt. According to HomeAdvisor.com, hornets carry more venom than wasps and bees. Therefore, a bite from a single hornet will be more painful and possibly fatal. Hornets emit an "attack" pheromone that summons other hornets to defend a nest, while a single wasp can sting multiple times.

When Pests Present a Health HazardFlies are pests that are not only annoying but also potentially harmful to you and your family's health. Flies land on numerous filthy surfaces and substances, increasing the chance of transmission of disease-causing bacteria.

If you have a fly infestation in your home, specifically in your kitchen, this poses a considerable threat to your health. Infected flies can easily contaminate your food, which will then enter your body once you consume it.

When You Have Children or PetsWhen conducting a DIY pest extermination project, it is critical to be mindful of what products you are using. We do not recommend trying to resolve a flying pest infestation on your own because, depending on the solution you choose, it may cause more harm than good, especially when using pesticide products that contain very harsh chemicals. Using these products may kill the flying pests, but TheKillers.net reminds us that these pesticides can seriously harm young children and pets if inhaled.
Twin Forks Pest Control® Eliminates Flying Pests
Twin Forks Pest Control® has provided professional pest control and extermination services to the East End of Long Island area since 1997. We have the products and expertise to safely and effectively exterminate flying pests. Take back control of your home today by getting a free estimate or calling 631-287-9020 if you live in Southampton, call 631-324-9020 if you live in East Hampton, or call 631-298-0500 if you live in Southold. We look forward to hearing from you!