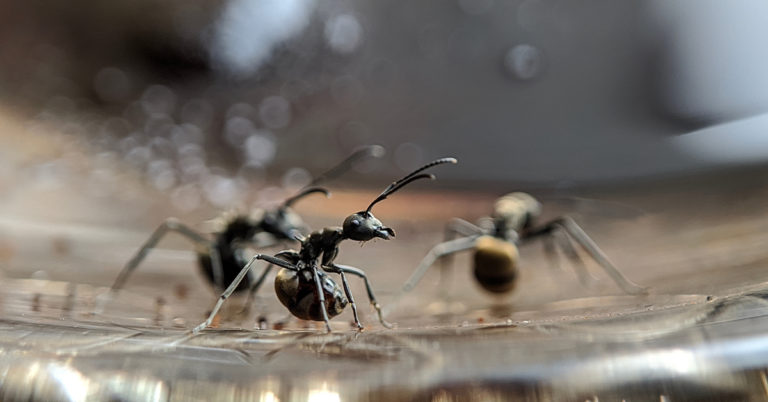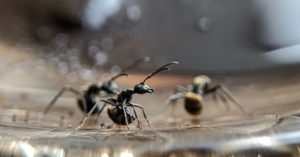 You see a few tiny ants crawling toward a forgotten breakfast crumb on your counter. Without thinking, you squish them with a paper towel, and suddenly there's an unpleasant smell of rotting coconut. Yuck! You have odorous house ants.
How Big Do Odorous House Ants Get?
Odorous house ants may have a significant smell but are relatively tiny, ranging from 1/16" to 1/8" in length. They are black or brown, with an unevenly shaped thorax (middle section) and a single node on their petiole (narrow waist-like area), which is hidden by their abdomens. If you are still unsure if you have odorous ants, please refer to this ant identification chart or call us.
What Attracts Odorous House Ants?
Like all ants (and pests in general), odorous house ants seek food, water, and shelter. They are especially attracted to sweet or sticky foods like honey, fruits, candy, or ice cream. They also gravitate toward moisture sources like leaky pipes, damp insulation, standing water, or moist houseplants.
Are Odorous House Ants Toxic?
Even though they smell horrible when crushed, odorous house ants aren't toxic to humans or pets. Like other species of ants, they become dangerous when they contaminate human or pet food, tracking bacteria onto anything they touch.
Odorous house ants are always seeking sustenance. Once they find a food source, they will migrate their entire colony to be closer to it, creating more opportunities for them to spread illness-causing bacteria.
How Do You Get Rid Of Odorous House Ants?
If you see one or more odorous ants in or around your home, prepare to take action immediately. Where there is one odorous ant, a colony of up to 10,000 of its comrades is nearby.
When dealing with an ant infestation, the most effective response is to hire a pest control professional. Ant infestations can be tricky to eliminate due to ants' tendency to nest underground or inside your walls in hard-to-reach areas. They're also experts at self-protection, perpetually defending the colony's queen and moving their nest to avoid harm. Even if you attempt DIY efforts, you will likely kill only a small portion of the worker ants, and the colony will regenerate.

Working with your pest control pro, you can eliminate a current infestation and prevent a future one. By making your home unattractive to ants, you can decrease your chances of reinfestation.

The easiest way to avoid an ant incursion is to remove all possible food sources that attract ants. Don't leave food sitting out, especially sweets; store it in sealed containers or keep it in the refrigerator. Clean up dropped food or spills immediately and thoroughly, and vacuum often for fallen crumbs. If you have pets, remove or wash their bowls as soon as they have finished eating.
Odorous house ants are also attracted to moisture sources. Ensure that your plumbing is leak-free and that there is no standing water in or around your home.
Don't extend ants an invitation into your home by providing them with accessible openings. Seal up cracks around your foundation, windows, and doors, as well as gaps around any wires, pipes, or utility lines entering your home.
Keep your house and yard clean and free of debris. Pay special attention to any branches, bushes, or plants that may provide ants an expressway to the inside of your home. Indoors, make sure your floors, baseboards, countertops, and cabinets are cleaned regularly.
Twin Forks Pest Control® Removes Ants And Other Indoor Pests
Our team of professionals at Twin Forks Pest Control® has unique expertise in removing ants and other indoor pests from your home. We serve the Eastern Long Island area, including Montauk and Greenport. Regain control of your home by contacting us today! Southampton residents can call (631) 287-9020, East Hampton residents can call (631) 324-9020, and Southold residents can call (631) 298-0500.