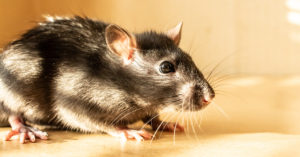 Whether scampering across your kitchen floor or scrabbling in your walls or attic, rodents are unwelcome visitors to your home. Fall is prime time for invading rats, mice, squirrels, and other small rodents. As temperatures drop, they seek warmth, food, and shelter indoors. Unfortunately, their desire for comfort is not compatible with your need for safety.
In observance of Rodent Awareness Week from October 16-22, let's explore some of the hidden dangers of exposure to these common autumn pests.
What Problems Do Rodents Cause?
Rats, mice, and other rodents can cause issues with your home, health, and peace of mind. Are rodents a health hazard? Yes. Can they damage your home? Absolutely.
So, how are rodents harmful to humans? Rats, mice, and squirrels can cause a wide variety of health issues, and they are also a source of property damage when they chew through your walls, pipes, and wires. Rodents are blamed for 30,000 structure fires yearly due to gnawing on electrical wires.
Can You Get Sick from Rats in Your Walls?
What happens in your walls doesn't always stay in your walls. Rodents leave their nests within a wall to seek food, exposing you, your family, and your pets to the many illnesses they can carry. Rodent-borne diseases are spread through bites and contact with feces, urine, saliva, and tracks.
Rodents don't even need to leave the wall to spread viruses that can be transmitted through airborne dust. Diseases may also be transmitted through the parasites they carry. For example, fleas, mites, or ticks that feed on rodents can quickly leave the wall and bite you or your pets.
What Diseases Spread from Rodents to Humans?
Throughout history, exposure to rodent-borne diseases has caused civilization-ravaging pandemics. Medical science has evolved to the point where these diseases are rarely fatal [when treated] in developed countries, but they still can be severe and have lasting effects on your health.
Some of the diseases spread by rodents in the U.S. include
Rodents are a vector for monkeypox, although transmission is highly unlikely unless you have direct contact with a rodent's blood or bodily fluids. Until more data is available about the current monkeypox outbreak, handle rodents and rodent carcasses with care, and ensure that your pets do not encounter them.
If you hear scratching in your walls, take action as soon as possible to remove the source of the problem before it becomes a health hazard. The quickest way to address the situation is to hire a pest control professional to locate and identify the pests in your walls. Trained experts can eradicate the problems and ensure they do not return.
Twin Forks Pest Control® is Your Rodent Elimination Expert
Twin Forks Pest Control® has been eliminating rodents, including those that find their way into your walls, for more than 20 years. Our trained experts will rid your property of unwanted pests, and we offer year-round protection plans so that your home stays pest-free. At the first sign of problems, contact us for a free estimate by calling (631) 287-9020 if you're in the Southampton region, (631) 324-9020 if you're in or around Easthampton, or (631) 298-0500 if you're in or around Southold. We look forward to hearing from you.