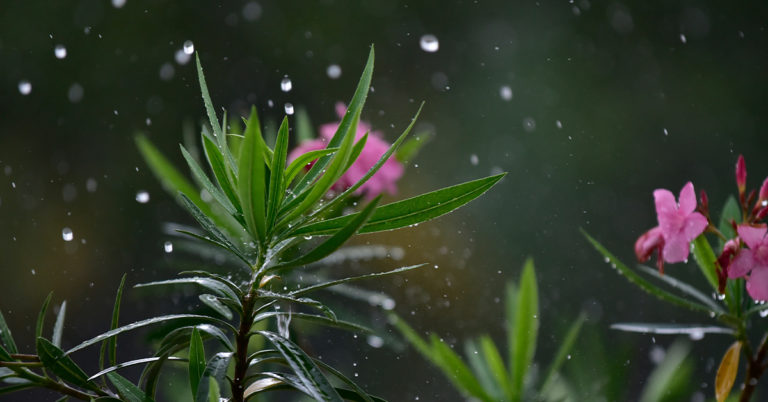 April showers may bring May flowers, but spring rains also bring unwanted visitors into our yards and homes. Insects can cause issues at any time of the year, but you may notice significantly more flying or crawling pests when it rains. Wet weather lures some predatory insects outside into fertile hunting grounds while compelling other bugs to take shelter by invading your home.
Do More Insects Come Out In The Rain?
While many insects cannot fly in the rain, mosquitoes and other small, winged insects thrive, especially in warm weather. Mosquitoes are agile flyers who can easily navigate raindrops with the help of water-resistant hairs. Flying gives them an advantage in hunting for a human or animal blood meal while the rain sidelines their competitors. Mosquitoes also lay their eggs in stagnant water pools after heavy rain, which increases their population during rainy seasons.
Other pests that flourish in the damp aftermath are termites, silverfish, centipedes, ticks, and fleas. Their numbers increase in and around your home during the rainy season.
Does Rain Force Bugs Into Your House?
Ground-dwelling insects may be forced out of their nests and right into your home, garage, or shed when it rains heavily. Roaches, ants, spiders, and yellowjackets usually nest underground, but they are easily flooded out of their nests during significant rainfall. When they search for a new home, they may find yours.
Where Do Insects Go When It Rains?
Because rainwater weighs down and damages their wings, most flying insects will stay outside and cover under leaves, inside knotholes in trees, under your roofline, or your window frames. They will go wherever they can quickly find shelter.
Ground-dwelling insects forced from their nests by the rain can find their way into your home, taking shelter anywhere from the attic to the basement. Once indoors, they find their way into walls, drains, cupboards, trash bins, or piles of debris or clutter.
Unfortunately, once these pests taste the good life inside your home, they may settle in, build nests, and cause problems for you and your family. It's always a good idea to do whatever you can to prevent this from happening.
Be sure to inspect your home for openings that are an invitation to insects and seal up any cracks or holes you find. Remove trash, debris, and clutter in and around your house that may provide cover for nesting insects, and clean up crumbs or spills inside your home. Keep your drains clear and your sink clean and free of dirty dishes. Don't leave out pet food when your dog or cat isn't eating, and ensure that the area around their feeding spot is clean.
Trust Twin Forks Pest Control® To Remove Pests From Your Home
The Twin Forks Pest Control® team is here to help with any pest control needs and remove unwanted visitors during the rainy season and year-round. We have assisted thousands of homeowners across the Eastern Long Island area for more than 20 years. Take the first step towards a pest-free home today and fill out our free estimate form or call (631) 287-9020 if you're in the Southampton area, (631) 324-9020 if you're in the East Hampton area, or (631) 298-0500 if you're in the Southold area.