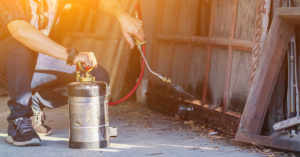 Every spring, homeowners wonder, what is the best defense against pests? It can seem daunting, but the good news is that a few steps, which also provide additional benefits, will help prevent pests from infesting your home and property.
How Can You Stop Pests Entering Your Home?
Ultimately, preventing pests boils down to a two-pronged approach. It would be best to have both outdoor pest control methods and indoor.
Make an outdoor examination. If the weather is warm, start with the outside.

Walk around to look for debris that blew into your yard during the winter, especially in the far corners where they could collect along a fence.
Check the foundation of your house and check for cracks.
Look for damaged or wet wood that could attract insects to serve as a food source or entry point.

Check to see if water is pooling anywhere or if the grading around your house has shifted.

Proper grading ensures that water will flow away from the dwelling instead of pooling against the foundation, leading to cracks, wet basements, or insect infestations. Mosquitoes lay their eggs in still water, so get rid of any puddles or pools.

Look at exterior faucets, conduits, and pipes.

Gaps around these items can form or widen, allowing pests and vermin to enter your home, using the pipes as a sort of through-way. Use chalk to seal the gaps or pack with steel wool. Mice can't chew through steel wool.

Inspect window screens.

While doing your exterior inspection, check window and door screens for damage or holes. Check them from the inside for best results because small holes might only be visible through a closer look than you can get from the outside. A variety of insects can get through even the tiniest of tears.

Tidy the outside.

After the inventory, start bagging any leaves that fell late in the season and any papers or trash. Collect broken branches and bundle them for garbage or as fireplace kindling.

Trim trees and shrubs.

Bushes and tree branches that touch the house can help insects find their way into your home. Check the species of your trees and bushes for when to cut them back but make sure to trim them all at least once a year.

Position the woodpile properly.

Wood piles can attract termites and carpenter ants. If you have a fireplace, ensure the woodpile is at least 50 feet from the house, and the logs are stored off the ground.

Switch to yellow bug lights.

The white light from typical outdoor bulbs attracts clouds of insects because of the light's wavelength and temperature. Swap them for yellow "bug lights," which use a less appealing part of the spectrum for insects. Motion sensor lights closest to the doors will further discourage insects from hanging around there and ducking inside when the door is open.

Clean the gutters

Backed-up rain gutters can lead to structural damage that pests can get inside. Mosquitoes can also lay eggs in water pooled in clogged gutters.

Avoid pet/pest problems.

Pet doors don't just let in your dog or cat; rodents and insects can also use the entry. Unless necessary, avoid feeding pets outside since the food will attract pests and vermin. If you have to feed pets outside, take in any leftovers as soon as they're finished.

Remember that indoor/outdoor pets are more prone to picking up fleas, ticks, and mites. If you can't switch them to indoor-only, consult with your veterinarian on the best options to protect your pets from such parasites.
Indoor Pest Control Methods
Protecting your property from pests isn't solely an outdoor endeavor. Steps you take indoors will also make a difference. You can do these on rainy days or when it's still chilly instead of waiting for good weather.
Spring clean.

Season changes are a great time for the in-depth cleaning that's often neglected when busy. It deters insects and helps you spot any that might have already made their way inside. Clutter clearing deprives them of places to hide, too.

Do a clothing check.

Preventing pests means depriving them of food, water, and shelter. When swapping winter clothing for summer, make sure everything is clean before putting it away since that untreated food stain could attract bugs.

Do the dishes every day.

Dirty dishes are food magnets for pests, and soaking doesn't change that. The only thing worse than dirty dishes in a sink for attracting pests is a big pile of dirty dishes sitting there for days.

Book pest treatments.

Termites love Long Island's sandy soil, so a yearly termite inspection and treatment is essential. Tick treatments are also necessary, especially for Suffolk County residents. If your property is near woods or grasslands or has deer visits, tick treatment is essential to avoid Lyme disease.
Preventing Pests Is Our Only Business
The Twin Forks Pest Control® team is the expert in pest removal methods and preventing the return of pests. We have provided pest control for homeowners across the Eastern Long Island area for more than 20 years. Request a free estimate or call (631) 287-9020 if you're in the Southampton area, (631) 324-9020 if you're in the East Hampton area, or (631) 298-0500 if you're in the Southold area.