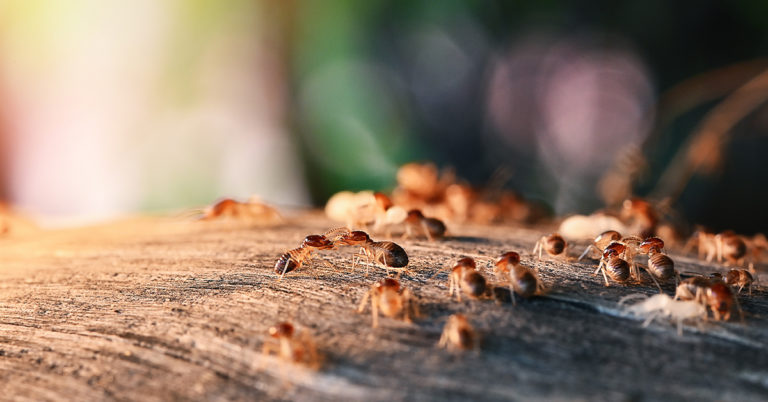 Most homeowners know that termites are tiny insects that eat wood and can cause irreparable damage to their homes, which is enough to cause concern all on its own. But many homeowners are unaware that termites swarm and what those swarms mean for their homes.
Which Species of Termites Swarm?
All termites species swarm, though the timing varies for each one – subterranean termites swarm in the spring, dampwood termites swarm during the summer, and drywood termites swarm in late summer/early fall. Effective swarms' ideal weather conditions include damp ground, calm winds, and higher humidity.
The termites that swarm are from a specific group within the colony whose sole purpose is to swarm and reproduce. They are the only termites in the colony with wings; workers and soldiers lack wings. Males and females will swarm when the colony reaches a maximum capacity and needs to expand. A homeowner finds broken wings near swarms of termites because once the male and female become a mated pair, they break their wings off as a sign of their union. These newly coupled pairs now become the king and queen of a new colony.
Does a Swarm Mean You Have a Termite Infestation?
Unfortunately, a termite swarm means termites on the property in nearly all cases. Termites may use a dead tree or stump on the property to swarm. While the swarm may not have originated in your home itself, it is still a cause for concern. A termite swarm does not cause actual damage to your home. The colony's worker termites accomplish this, so a swarm trapped indoors will die if it cannot get outside. It would be best if you still had a termite inspection done by a licensed professional because a swarm means an entire colony somewhere close by. Discarded wings may be difficult for an average homeowner to identify, and distinguishing between a termite's discarded wings and an ant wing can be tricky.
What to Do If You Have a Swarm
If you have or see a termite swarm on your property or in your house, you must immediately call a qualified termite control company. Swarms are a sure sign of a full-sized colony somewhere nearby. The last thing you want is for these swarms to survive and create new colonies of termites on your property or in your house. Be sure to take samples of any wings that you find to show your pest control expert and get an identification.
Rapid identification is key to preventing more termites so if you see any, act quickly. Termites are not bugs to wait on and see if they go away, and their capacity for destruction is overwhelming.
Trust Twin Forks Pest Control® to Get Rid of Your Termites
At Twin Forks Pest Control®, we advise a yearly inspection to provide the peace of mind that your home is termite-free. Our termite experts will help with termite prevention, removal, and extermination if termites are spotted until your home is termite-free. For more information about our termite inspection service, Southampton residents, please call (631) 287-9020, East Hampton residents please call (631) 324-9020, or Southold residents, please call (631) 298-0500. You can also fill out our contact form and request a free inspection or schedule your first service appointment.