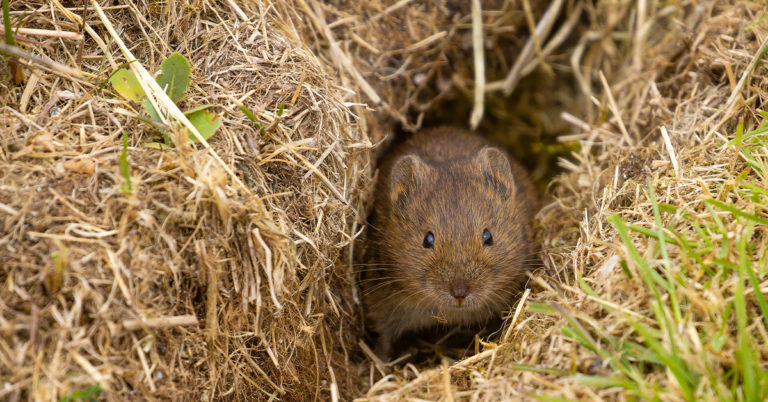 It's never too late in the season to be concerned about pests on your property. You might think yard pests won't survive a Long Island winter, but if that's the case, you probably haven't had a vole infestation; at least, not yet.
Is a Vole the Same as a Field Mouse?
You might be asking, "What are voles?" Voles look like larger, stockier cousins of field mice but are separate species. These tunneling rodents have an impressive capacity to overwinter in your yard while causing extensive damage that may not be apparent until the following spring.
Voles are highly active day and night, and they breed quickly, with each mating pair able to produce a hundred offspring each year. A few voles can turn into a yard-destroying infestation within weeks.
Voles are 5-7 inches long, roughly the same size as field mice, but they have thicker bodies, significantly shorter tails, and rounder, blunt snouts. They are typically brownish-black in color.
Long Island has two vole species: meadow voles and pine voles. While both species are tunneling rodents, the pine vole spends nearly all its time underground, which makes it difficult to detect until it causes substantial damage to your lawn or garden.
Will Voles Come into Your House?
Voles and field mice rarely infest houses or other structures, but sometimes one may accidentally find its way indoors. If this happens, it should be treated as any other rodent and remediated immediately.
Are Voles Dangerous?
Voles are timid creatures, aren't aggressive, and rarely bite humans or pets. However, like other rodents, they carry parasites and can spread diseases through their feces and urine.
The primary threat that voles cause is to the health of your yard. Burrowing and gnawing voles undermine your yard and garden, damaging or destroying plant growth, especially if you allow the infestation to continue unchecked. Voles are active year-round, even in cold or snowy weather. Voles feast on the leaves and roots (or bulbs) of grasses, crops, and other plants, and they gnaw on woody plants, including shrubs and young trees.
Voles leave behind patches of vegetation with irregular gnaw marks up to an eighth of an inch wide. Stems, roots, or tubers may be chewed down to a pointed tip, and woody plants may become completely girdled with vole damage.
Do I Have Mice or Voles?
It's a safe bet that you have a vole infestation if the problem is limited to your yard. If the pests are inside your home, it's probably a house, deer, or white-footed mouse. Either way, you will want to get rid of whichever pest is bedeviling you.
You can tell you have a vole problem by the type of damage done to your plants and the holes and damage in your yard. Burrowing voles dig small holes with no mounding around the entrance, and slight mounding may occur above their tunnels. These patterns are known as vole "runways," when the pests feed just underneath the turf.
Voles are wily pests that live, eat and breed underground, and eliminating them often requires professional removal. You can make your property less welcoming to them by keeping your grass short and removing protective foliage where they might take shelter.
Twin Forks Pest Control® is Your Vole Removal Expert
Living on the East End of Long Island means abundant wildlife, and voles are no exception. If you have an infestation problem, Twin Forks Pest Control® is your removal expert. Contact us using our form, or call for a free estimate. Southampton residents can call (631) 287-9020 , Easthampton residents can call (631) 324-9020, and Southold residents can call (631) 298-0500.