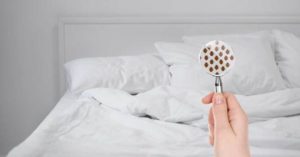 We have been spending a lot more time indoors than usual for the past year, and as mentally exhausting being stuck inside the house may be, it becomes much more draining once you realize that you are quarantining with bed bugs! Discovering that your home is infested with bed bugs is truly alarming. Your home is supposed to be a peaceful sanctuary where you can relax, and bed bugs do not belong there. The professional bed bug exterminators at Twin Forks Pest Control® can take care of your problem but keep in mind that the best method to reduce the chance of an infestation is taking preventative measures.
Twin Forks Pest Control® Will Rid Your Home Of Bedbugs
Twin Forks Pest Control® is ready and fully equipped to eliminate any indoor pests that have invaded your Long Island home. Whether they're bed bugs, ants, or roaches, we have the right gear to remove annoying and potentially dangerous indoor pests from your home and keep them from coming back. Contact us today and speak with a representative so you can regain your peace of mind and regain control of your home! Southampton residents, please call (631) 287-9020, Easthampton residents please call (631) 324-9020, and Southold residents please call (631) 298-0500.