If you suspect you have carpenter ants infesting your Eastern Long Island home and are looking for help in eradicating the problem, trust the tried and true experience of Twin Forks Pest Control to help you out. Carpenter ants can be a serious problem for your home's interior and can become a much bigger issue if immediate action isn't taken right away when an infestation is detected.
What are Carpenter Ants?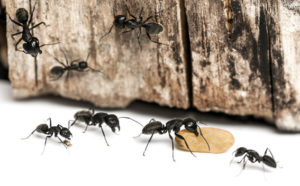 Carpenter ants are one of the largest types of ants, ranging from about one-sixteenth to one-half of an inch in length. While there are over 1,000 different species of carpenter ants, the one thing they all tend to have in common is the fact that they burrow into wood. Despite common belief, they are not ingesting this wood like termites that subside on the tunneled wood. Rather, the tunnels that carpenter ants create in wood are meant to serve as the nests and passageways for the colony to expand. Carpenter ants tend to look for dead, decaying wood but can also thrive in moist environments as well.
How to Tell You Have a Carpenter Ant Infestation
Make no mistake about it, carpenter ants have the potential to be quite destructive to your house. However, you must determine whether you are being infested by carpenter ants or a species of termite. The best way to determine whether you have carpenter ants is to actually see the ants in your home. However, this doesn't necessarily mean you have carpenter ants. When on the search for food, carpenter ants can travel up to 1,000 feet from their nests. To put that into perspective, that's farther than three entire football fields end-to-end!
If you haven't actually seen either pest, the tunnels they produce are also telltale signs of which intruder is boring holes in your home's wood. The tunnels that carpenter ants make their nests in are hollowed out and polished out to make for easy transport through them. Termites, on the other hand, aren't as neat when eating the wood and will often leave dirt or grass (fine, sawdust-like material left over from termites eating wood) behind in their tunnels. If you've determined your issue is termites, please visit our termite treatment page for more information.
The Potential Damages from Carpenter Ants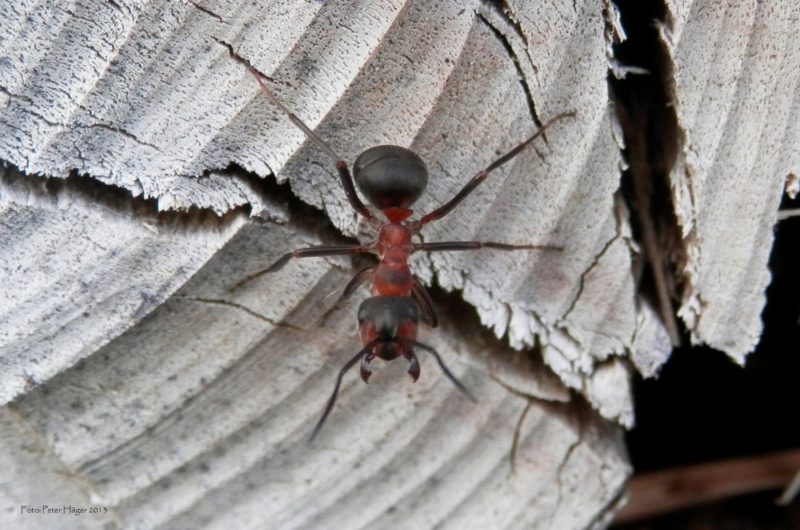 Make no mistake about it, carpenter ants can cause substantial damage to your home. As we said earlier, the tunnels carpenter ants make in wood are not for sustenance but for nesting purposes. That being said, if immediate action isn't taken the reproduction rate of carpenter ants can lead to more ants which can equate to more damages. The average adult worker takes about sixty days to mature and once full-grown, workers will forage for food and continue boring into wood to create bigger nests for the colony.
While this is happening, the queens of the colony will have the responsibility of birthing new broods. As the cycle continues the needed space expands to more wood of your home. At a certain point, the queen will birth winged males and females who will go on to create new colonies of their own. If carpenter ants are in your home, they will start these colonies in other parts of your house leading to a much larger problem.
Take Action on Your Carpenter Ant Infestation Today
As you can see, a carpenter ant problem can get out of hand very quickly. That's why it is best to handle a carpenter ant problem right away if you suspect one. The professionals at Twin Forks Pest Control have been helping families throughout eastern Long Island handle their carpenter ant problems with our successful methods. Using a combination of bait traps, dusts and insecticides we make sure the colony is dealt with and won't come back.
If you would like to rid your home of carpenter ants today, we invite you to call one of our regional numbers or fill out our contact form for a FREE estimate today.