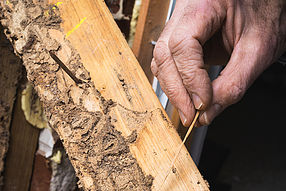 Are you in need of termite treatment on the East End of Long Island? Twin Forks Pest Control has been the authority for termite removal and treatment for years and we're ready to help you.
It is estimated that subterranean termites cause over a billion dollars in damage to United States homes each year. Unlike fires, hurricanes and tornadoes, termite damage is usually not covered in your homeowner insurance policy. Therefore, if you suspect that your home might be infested with termites, getting your home inspected and treated will save you money in the long term. It's much more manageable to catch termite damage early on in an infestation.
At Twin Forks Pest Control, we advise getting your home inspected every year for the peace of mind that your home is termite free. One of our termite experts will help with termite prevention to avoid any future infestations. If termites are spotted, we will help with removal and extermination until your home is termite free. For more information about our termite inspection services give us a call at any of our regional numbers or fill out our contact form.